We left Southampton on time on Friday evening and eventually turned to the east and aimed towards the North Sea.
All our table companions turned up on Friday. Casey and Nadia from just north of Miami, Florida and Mark x 2 – from Southampton! So it's a table of 7.
It soon became apparent that coincidences would be rife. Mark 1, from Chessel Bay revealed that his former father in law was Ken Bennett, a Southampton character, who would have been well known to many of you. Ken lived along the road from us in Chilworth.
By the way, I've lived in Southampton all my life and have never before heard of Chessel Bay. Have you? When I was a boy, our family GP practiced in Chessel Avenue, Bitterne. But a bay in a river? That's new to me! But I have found it on Google maps.
Mark 2 revealed that he had worked for IBM in Hursley for 17 years. The park in which IBM operates is no more than 2 miles from our home and I drive past the park every time I go to Winchester.
On Tuesday evening at a World Club party, I found myself talking to a distinguished English gentleman with a very attractive Chinese wife. I didn't get their names but they told me that they now lived in Winchester, having until recently lived in Kingsway, Chandlers Ford. Kingsway is 50 yards from our house!
The first of the 2 sea days was rough but not as bad as the weather in Biscay the previous week. We had 2 days relaxing and then we arrived at our first Norwegian port on this voyage – Alesund.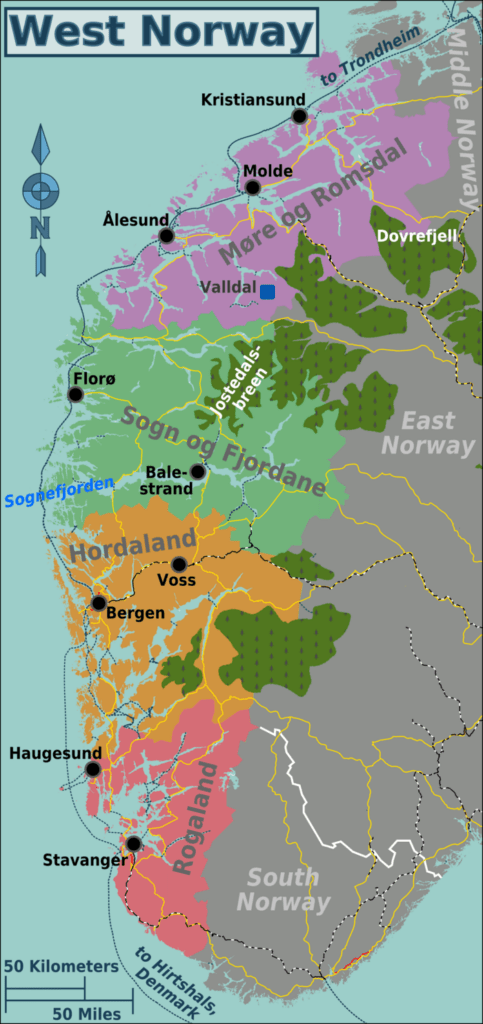 You can see Alesund, south of Kristiansand and Molde but north of Bergen and Haugesund (which is our last port before our return home)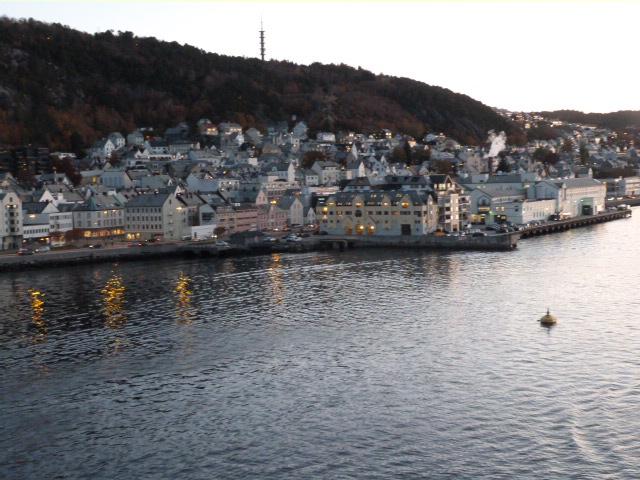 For the four Norwegian ports, I had given up on Cunard tours and shuttles and in September I emailed taxi firms in all the ports. There were plenty of adapted vehicles. The firm that I eventually used in Alesund have 6 large Mercedes Sprinter adapted vehicles with lift and room for more than one wheelchair and 6-8 seats for the able bodied.
Our driver, of Eritrean heritage, arrived in the adapted vehicle as arranged at 10.30am. He was a lovely man. Courteous and a careful driver. We sorted out an itinerary and he wanted first of all to show us one of the handful of houses that had survived the fire back in 1904.
In many towns in Norway in the late 1800's nearly all the houses were wooden. In Alesund in January 1904 a fire started in a factory when a cow apparently kicked over a torch! It was a very windy night and flames spread rapidly wiping out the 1,000+ houses in the town leaving 10,000 people homeless. Germany's Kaiser Wilhelm II, who often vacationed in the town, led a swift rebuilding programme, combining German art nouveau with Viking flourishes.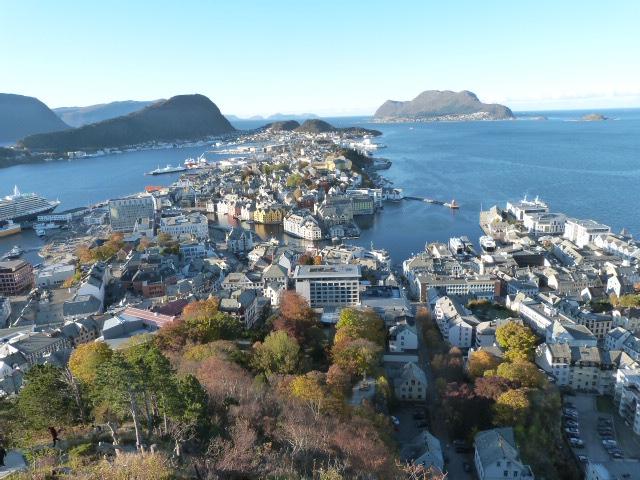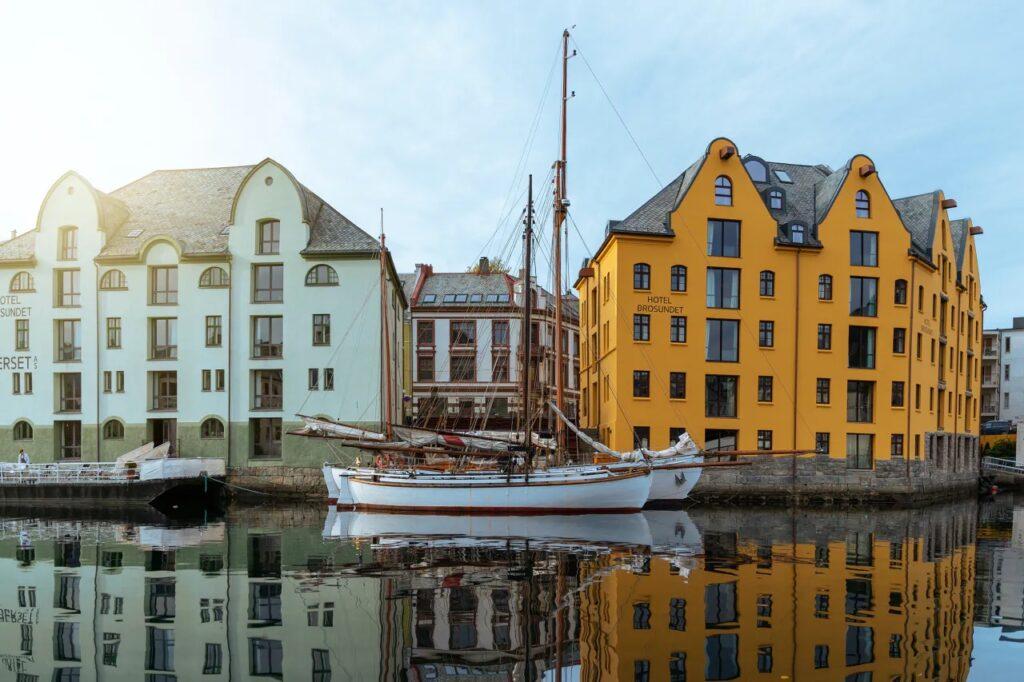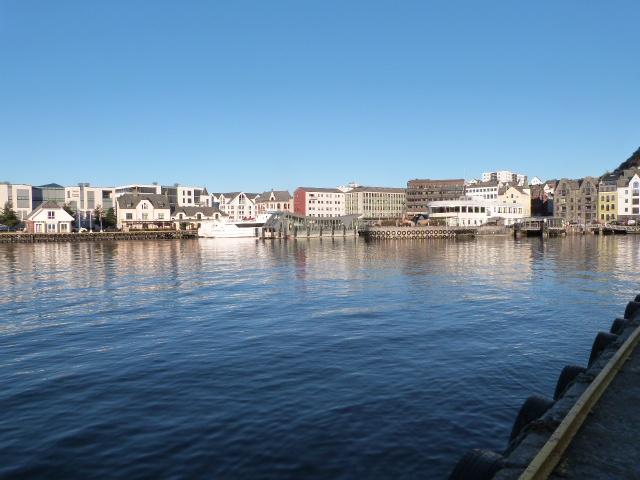 He took us up to the Aksla viewpoint which gave us magnificent views in all directions. Queen Victoria was on her berth.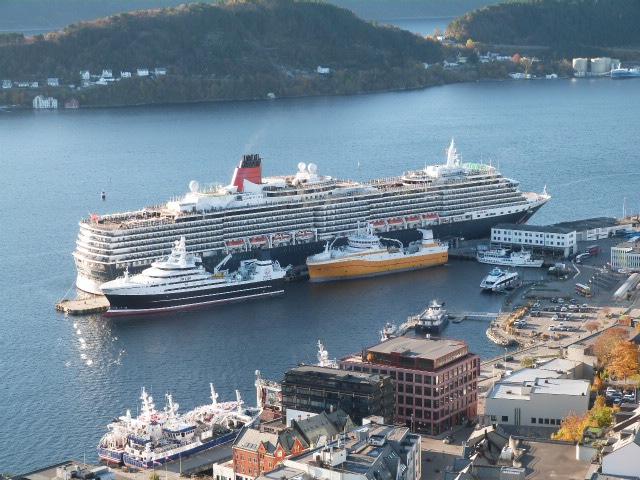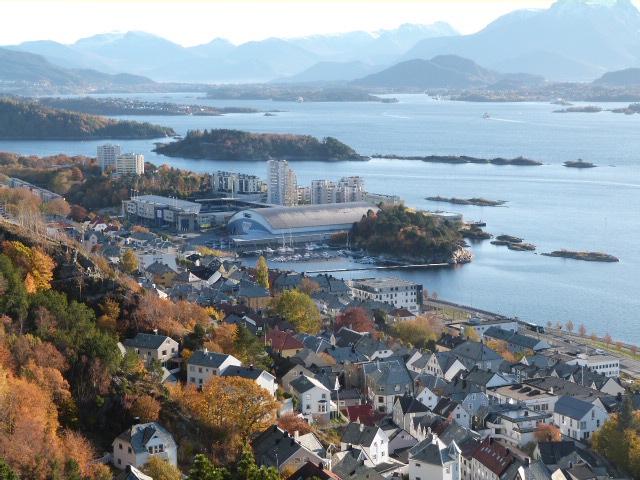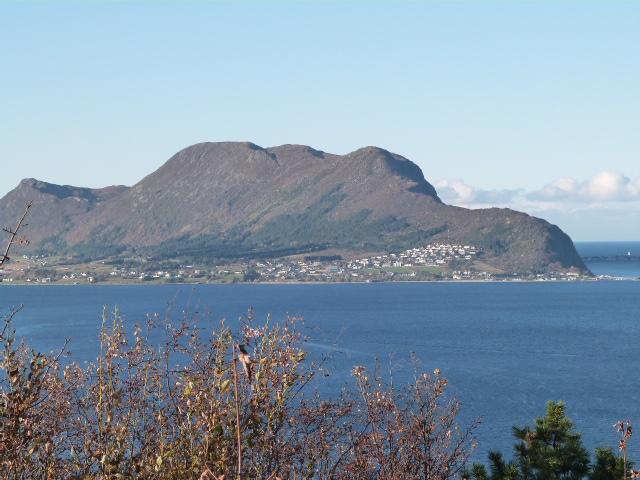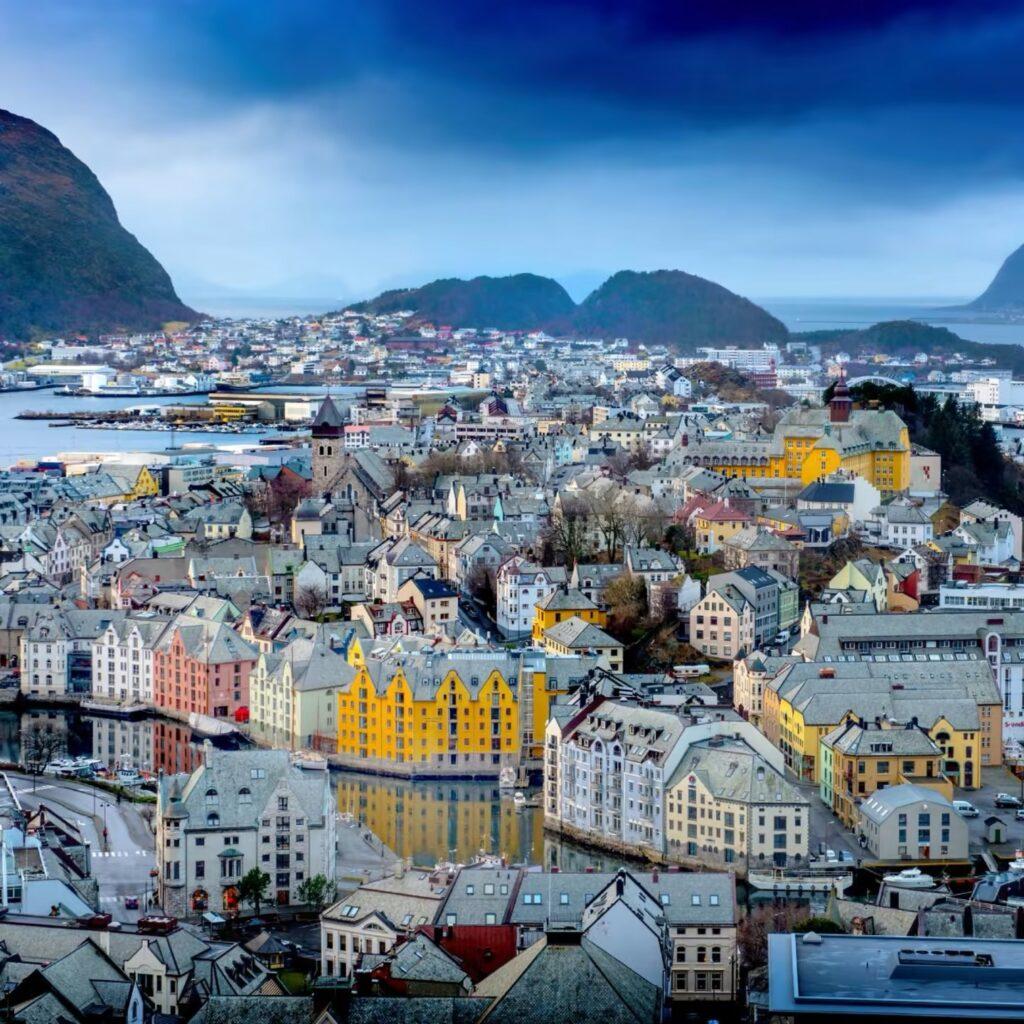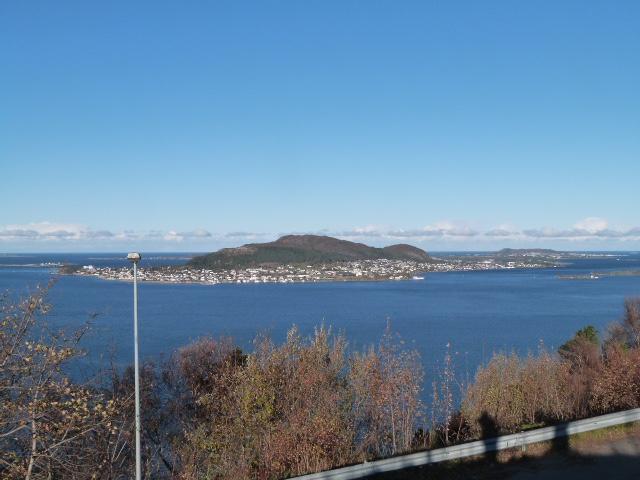 Our driver then took us to the Sunmore museum, an open air exhibition of Viking boats and homes.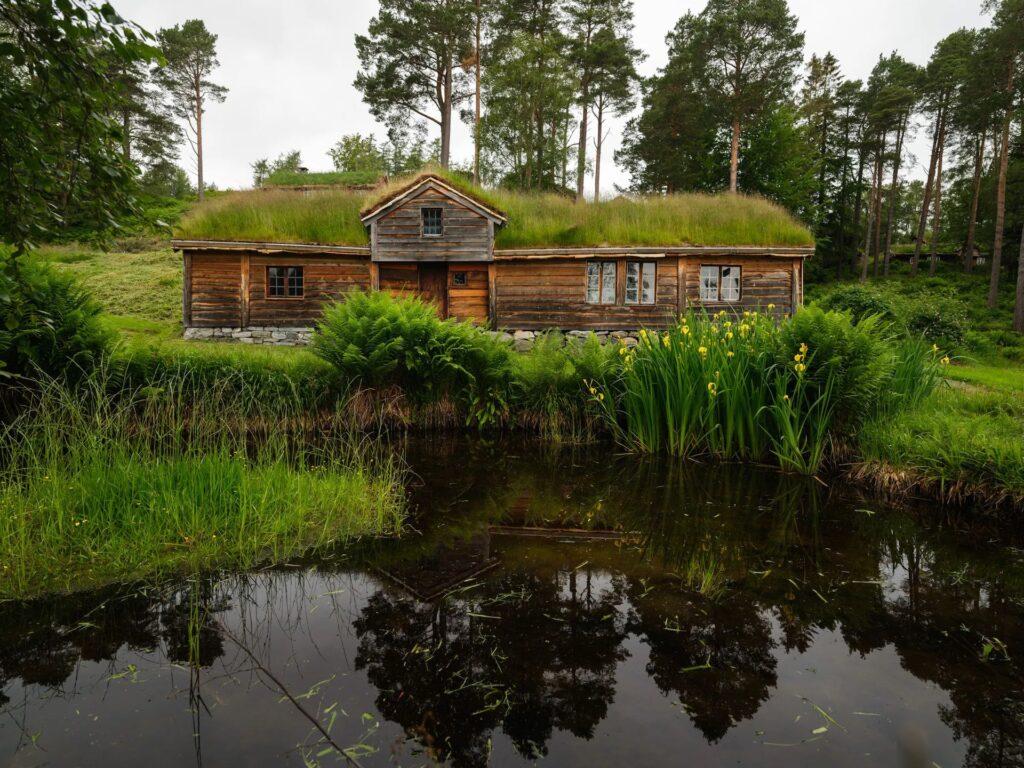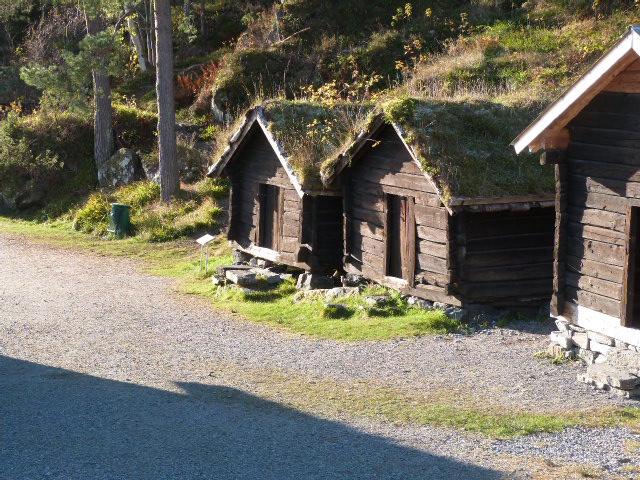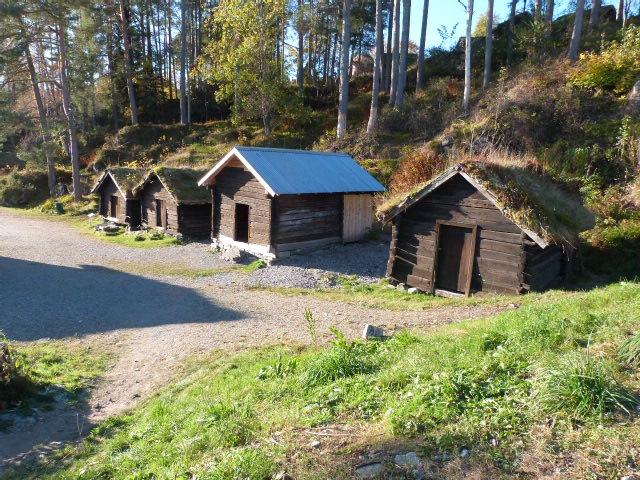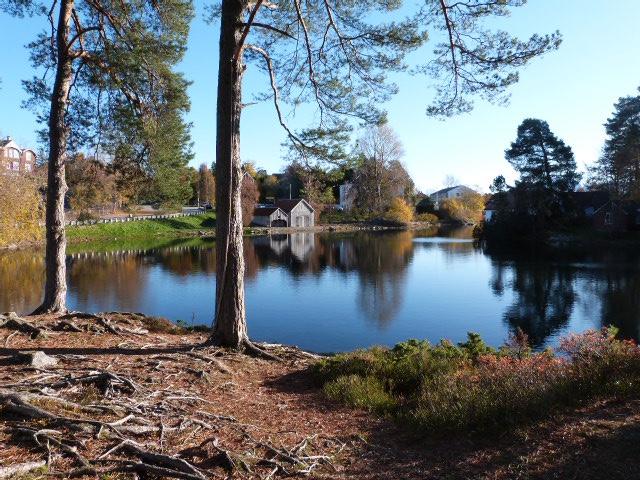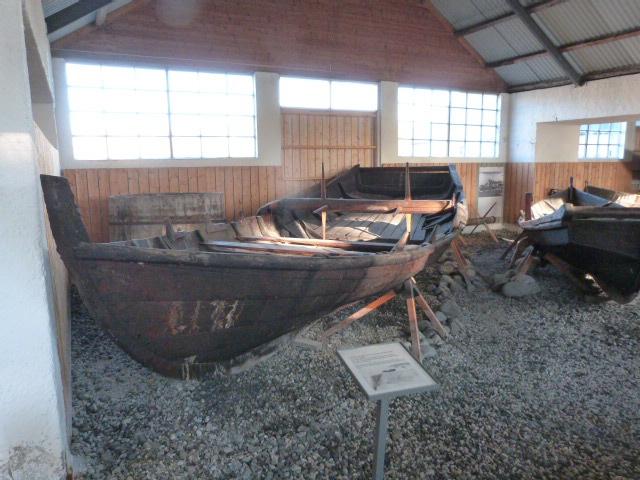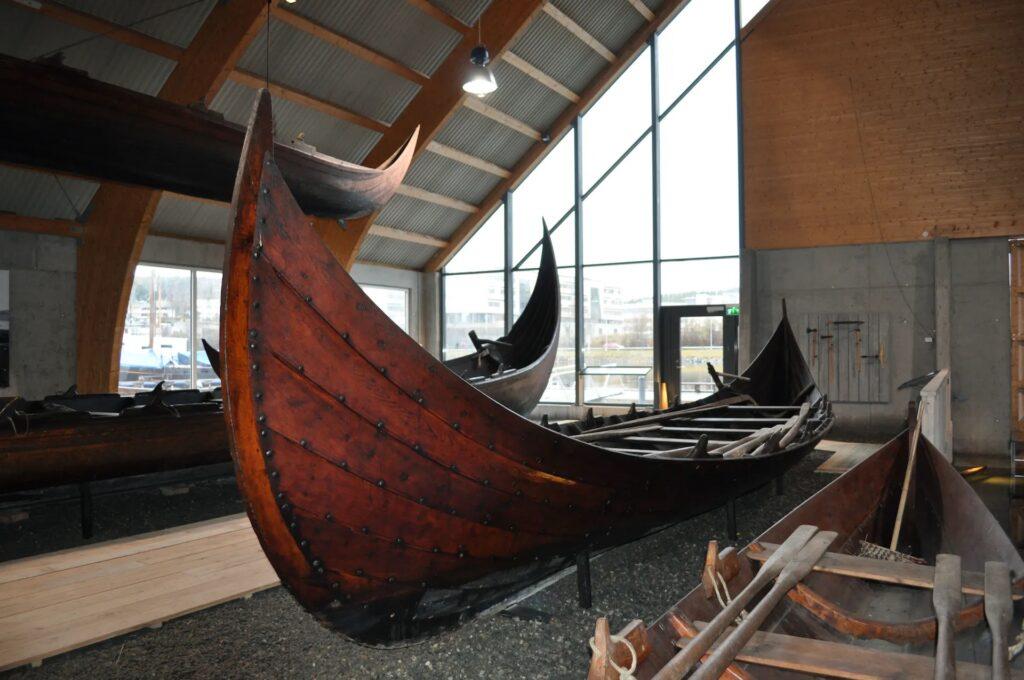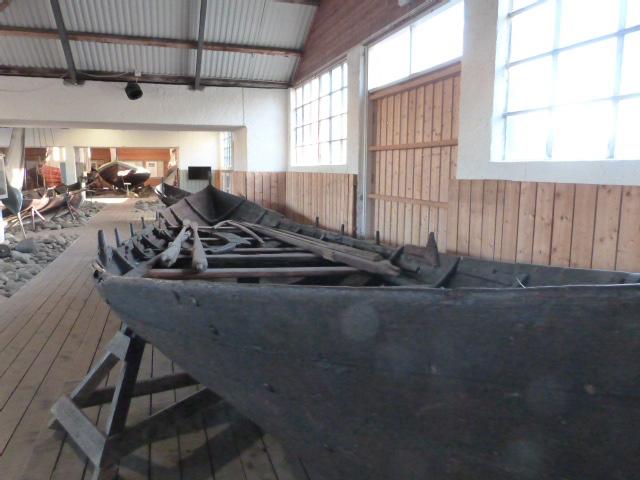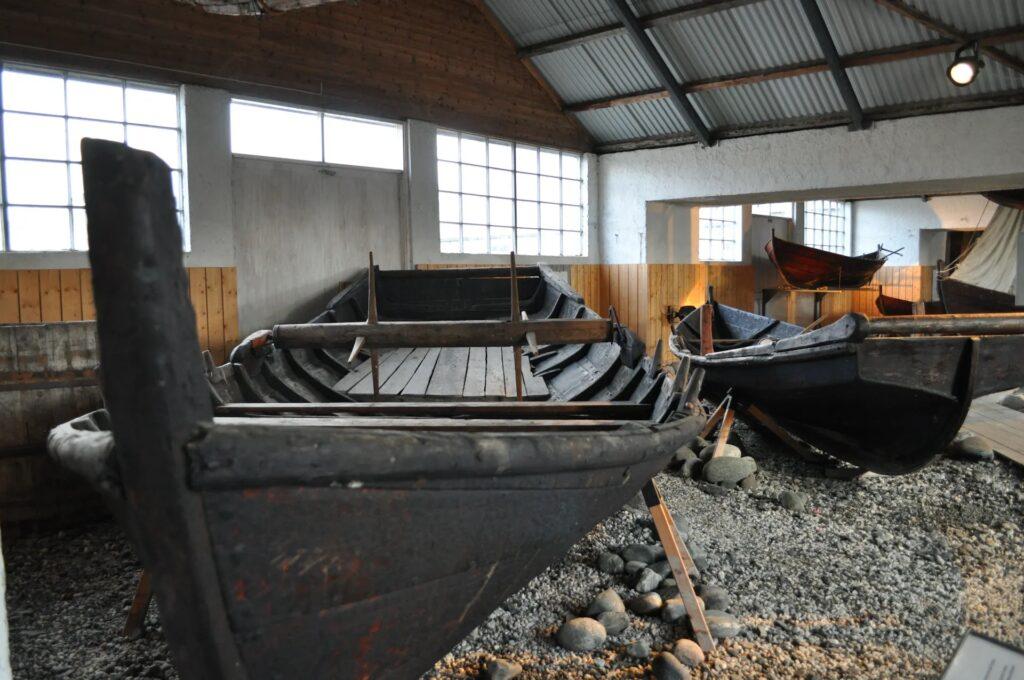 It was a fun day and after our return to the ship I ventured out on foot to find a few items that I was in trouble about as I'd failed to pack them. I took some more photos on my travels. The buildings in Alesund are very attractive.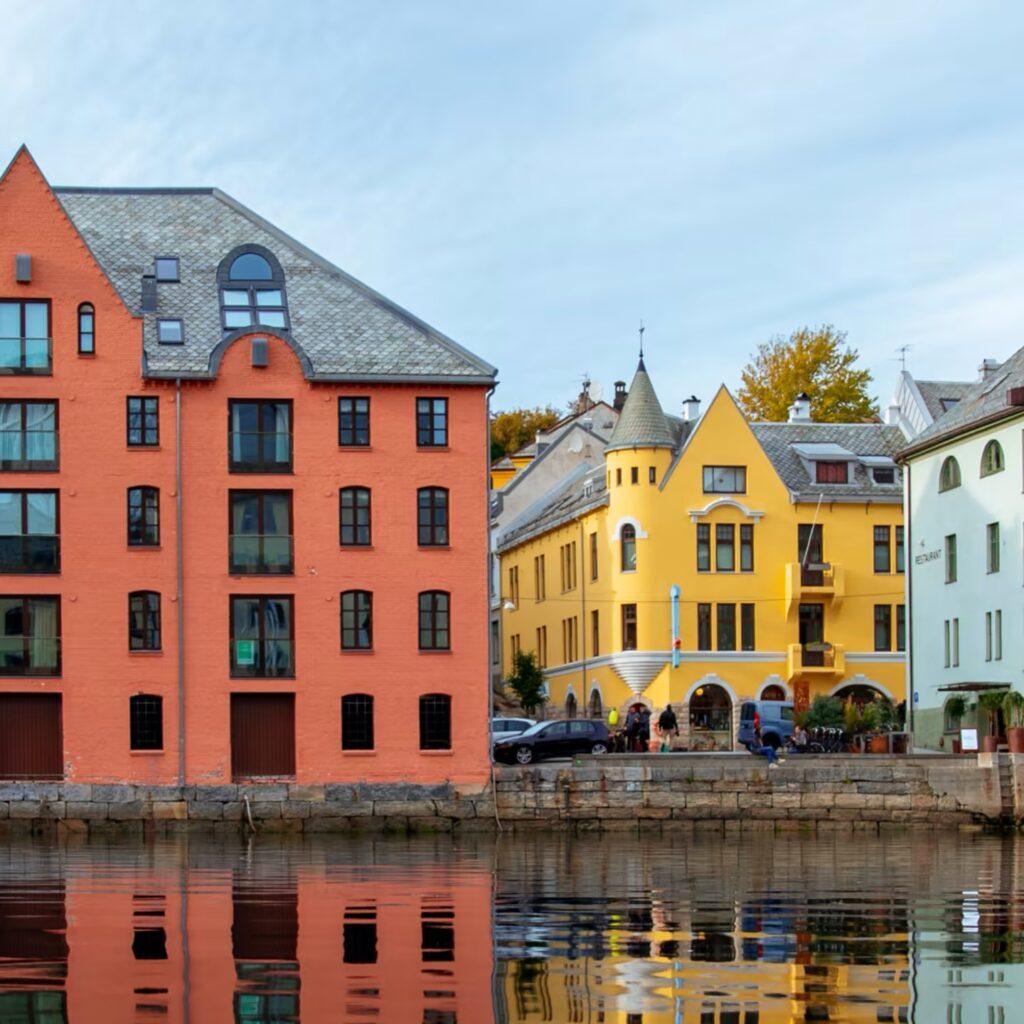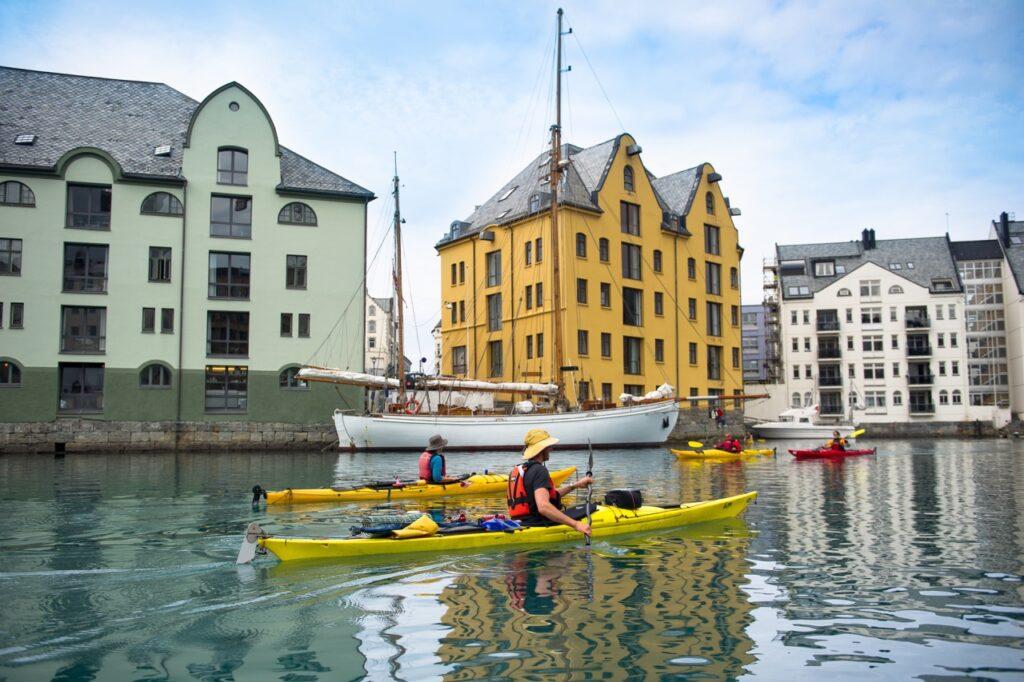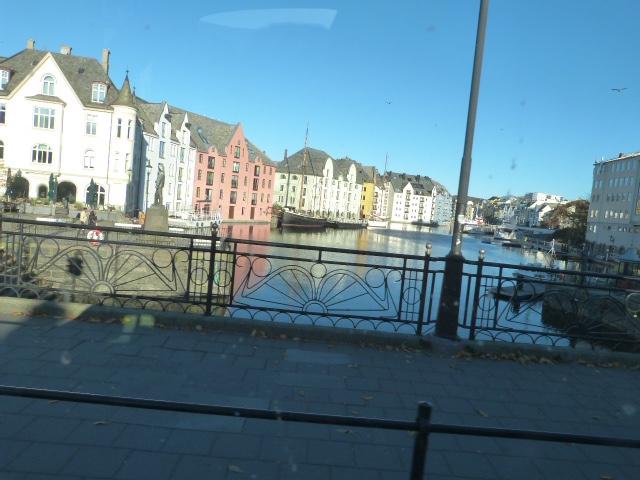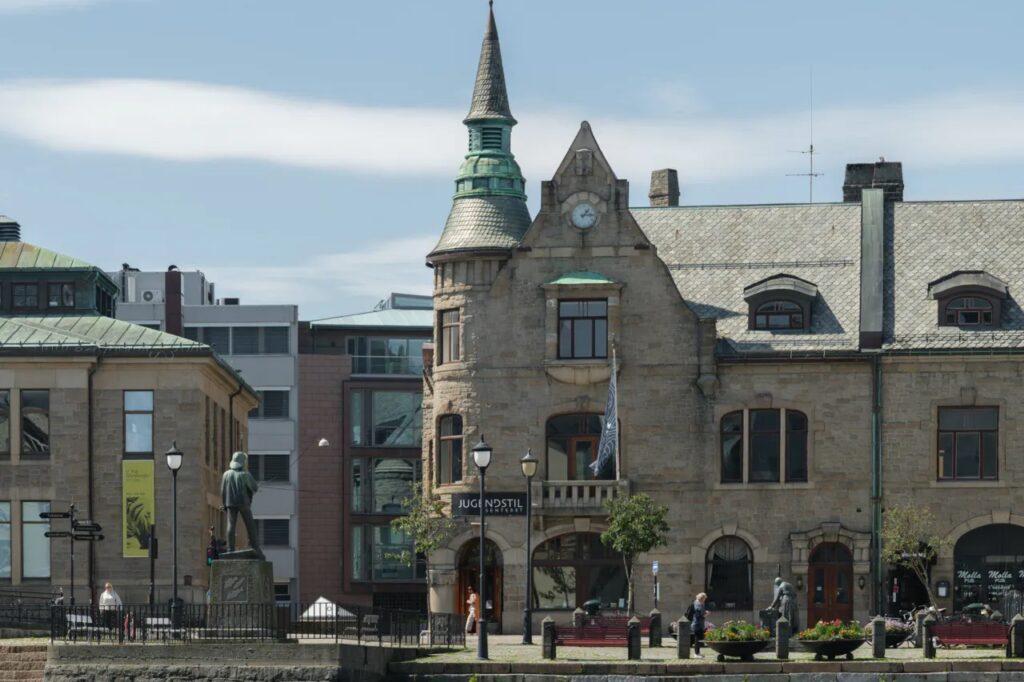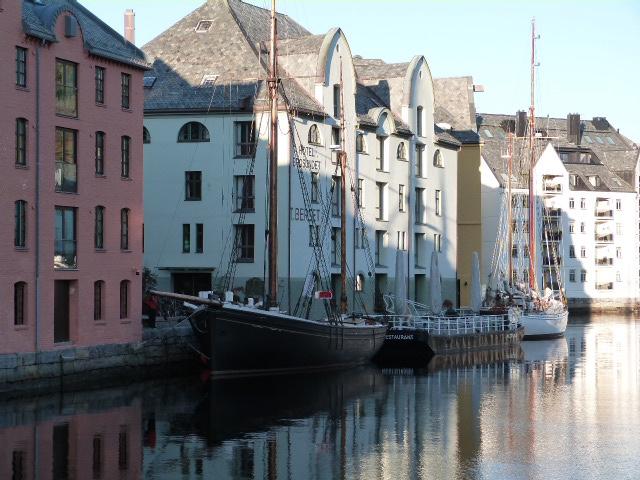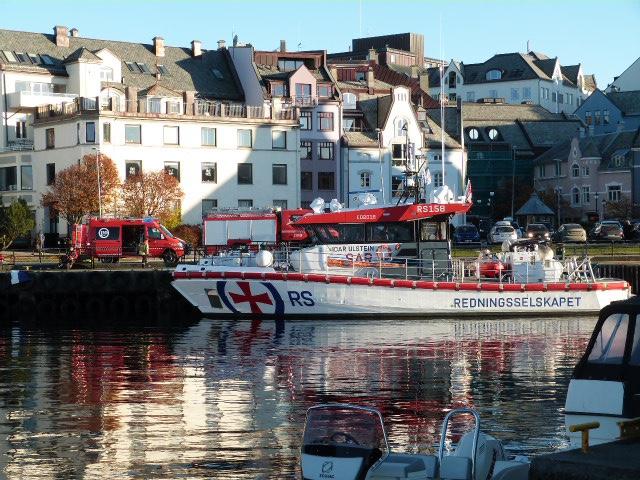 We have a day at sea on Tuesday with, apparently, some Halloween celebrations.
As I write the Captain has announced that we are now within the Arctic Circle. He also said that he will be leaving the ship in Tromso tomorrow for a months leave. The new Captain is apparently already aboard. We look forward to meeting him.