Today's sunrise was magnificent.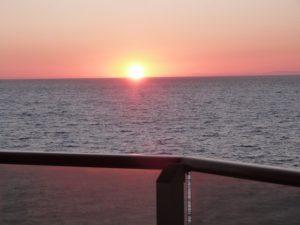 And despite us approaching the Bay, the sea has remained friendly, crisp and fairly even
We just have one more day before Southampton, but tonight we are dining in the Verandah restaurant, courtesy of Cunard following the fiasco in Dubrovnik.
Last night in the theatre we were entertained by New Amen Corner, said to be the hottest band on the 60's circuit. Their lead singer Glen Leon has a fantastic voice and led the band through a classic series of hits of the last 60 years. They will appear again on the last night of the cruise.