After leaving Trieste we sailed down the Adriatic Sea along the coast of Italy, round the heel of Italy, across the gulf of Taranto towards the Ionian Sea.
We then headed up towards Sicily. This was a return to the Straits of Messina that we had passed through in the opposite direction a week ago. It's the narrow stretch water that divides Sicily from the toe of Italy. A week ago we were heading West to East from Cartagena to Corfu so sailed across the flat top of Sicily and the turned to starboard through the strait with the large port of Messina on our right and mainland Italy to our left.
This time were travelling back from Trieste to Sardinia and through the strait we were sailing in a northerly direction. It was lunchtime and we were dining in the Britannia Restaurant. I had asked for a table as near to the stern of the ship as possible because I was anxious to see and photograph the small volcanic island of Stromboli which I had missed earlier.
Before I talk about Stromboli, I want to mention Messina. It was in Messina that Jane, Kim and I left Queen Elizabeth 5 years ago for niece Katie's wedding to my blog guru Sam near Lucca in central Italy.
We flew to Rome, then another flight to Pisa. We then drove to the wedding venue 20 minutes north of Lucca and after 3 days of wedding celebrations we drove north to Venice where Queen Elizabeth was conveniently waiting for us.
But back to Stromboli. It was misty and Stromboli wasn't erupting for us so the best I could do was a photo taken by Kim which is much better than any I took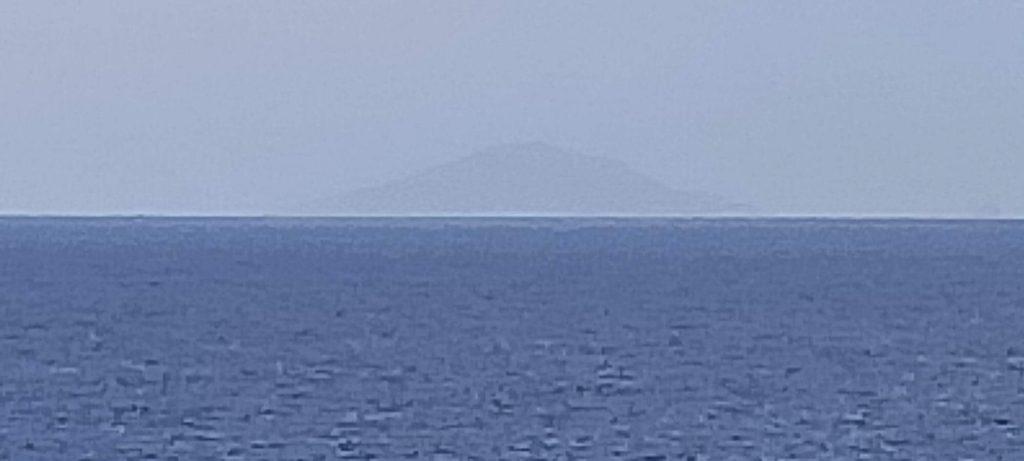 This is how I hoped it would have been performing