Parties are back. Last year, when cruising resumed following Covid, the Captain and officers were rarely seen around the ship. Now they are not only seen around the ship but joining the guests at parties in the Queens Room.
Last night the drinks were flowing freely at the World Club party. That's for Cunarders who have cruised frequently with Cunard. The Deputy Captain spoke and introduced the Senior Officers.
Today at lunchtime at the Senior Officers party again there was a great atmosphere as staunch supporters of Cunard began to feel that the old traditions were returning. Laurence and Linda Coleman were there and introduced me to the Customer Services Manager, Callum. They also pointed out to me an elderly man who apparently lives on the ship.
Some of you may recall that an American lady, Beatrice Muller lived on QE2 for many years. Her last voyage on QE2 was just before she was sold (QE2 not Mrs Muller). She was 89 years old. She was paying between £3,500 and £5,000 a month, which was far less than she would have paid for a place in a retirement home. And she became such a personality that she she rarely had to buy a drink for herself!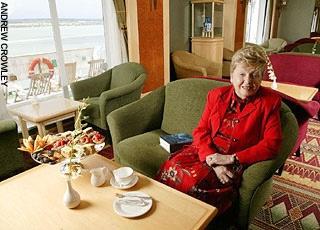 For the last 2 weeks the sea has been calm but today it was less so. We are out of the Baltic and back in the North Sea and from lunchtime onwards it's been lumpy.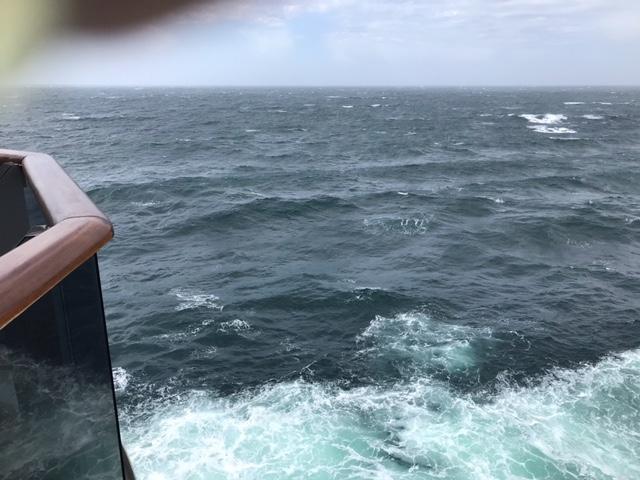 It was noticeable that many tables were empty at dinner tonight. I guess people were caught out by the sudden change from a flat calm for nearly 2 weeks to a fairly rough sea. Frankly, with the stabilisers out the ship is not moving much, but there are a large number of elderly people with walking difficulties and they are the people affected in the main.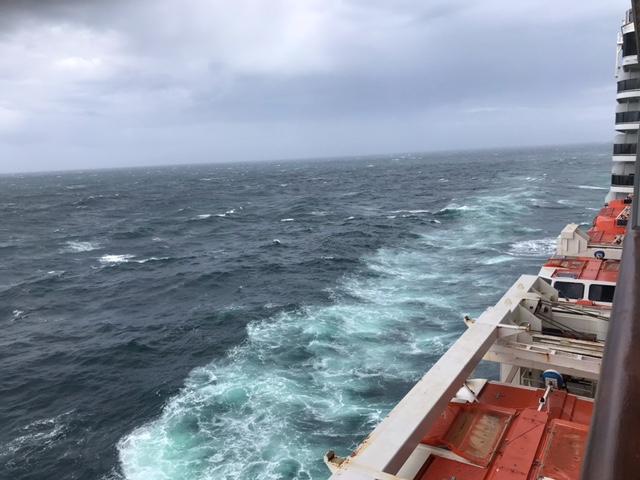 The singers and dancers were due to give their final performance tonight (Tuesday) but it has been cancelled because of the ships movement. It's a shame because they are very good and their 7 month contract comes to an end in Southampton. It would have been a great finale.