I return to our day in Las Palmas (Sunday). I broke away because of the shenanigans in Lanzarote. These are photos of the honeymoon Hotel Rocamar. It has had a facelift and I guess the apartments in it are now privately owned. It has fine views over the beach.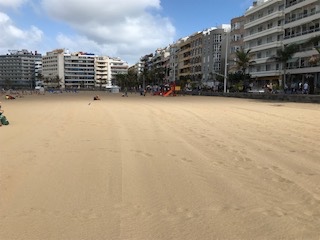 We then wandered into an area packed with market stalls. Jane and Kim were in their element. I sauntered away and they vanished. It took me half an hour to find them!
Many of you will know Steve Moore. He was at Canford with me (he's much younger though!). He was and is a major sportsman – rugby, squash and golf and no doubt others – and he and Bridget have produced 2 successful sportsman sons, one an Olympian. Steve saw the blog about Las Palmas and commented. What he has forgotten is that on one occasion, by chance, Jane and I bumped into him at Gatwick. He was on his way to Las Palmas with some of his divers and we were on our way to the south of Gran Canaria with our children for a holiday. We agreed to meet up for lunch the following week and we ate in the Hotel Rocamar!
I jumped ahead to tell you about getting stuck in Lanzarote on Monday night.
That Monday morning in Lanzarote the forecast was sunny with some clouds, but windy. We knew there would be an adapted shuttle to get us into town. I watched it as we had breakfast and could see that the round trip only took about 10 minutes, so if we missed it there would not be long to wait. The journey into Arrecife, the capital was easy. The driver was careful and the trip took about 5 minutes.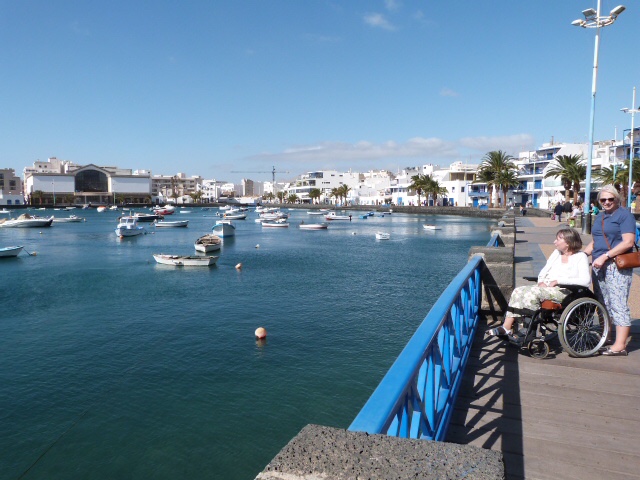 The walk into town took us round a lagoon and we then quickly discovered the shopping area. It wasn't great and the whole town seemed grubby and unattractive. Perhaps it was the wind and the dust that gave the wrong impression.
Back at the meeting point after coffees and beer, irritation set in. Large shuttle buses came and went but the adapted vehicle failed to show. The only person at the meeting point who appeared to be involved in organising the shuttles couldn't speak English. He could see that we were fed up. If the vehicle was sitting by the ship it would have taken one phone call and 5 minutes later it would be with us. The man told me the vehicle was broken. Not true. After waiting for 40 minutes the vehicle arrived. I established that the driver had been home for his lunch! Not good.
As my chums know, whenever something goes wrong at home or abroad, I email the CEO of the errant organisation and nearly always get an early response. In the case of Cunard, emailing the President produces zilch – not even an acknowledgement. But the Marketing Director, Angus Struther, always responds and often gives me a hour of his time at Carnival House to listen to my ideas for improvement of the Cunard cruise experience. I hope that someone at Cunard reads my blog, because there is no doubt that more effort has to be made in their treatment of those with mobility problems. A lack of tours and excursions I'm afraid is the norm.
Rant over until our next cruise.