We came to Crete twice in our youth. The first time was in 1975. We came with another couple and stayed at the Elounda Beach Hotel. It was a 5 star Hotel and pretty up market for us in those days. I remember that there was a fairly primitive windsurfer on the beach for the use of guests. We had never seen one before. We watched two German men trying to sail it, without success. By watching them we worked out how to steer it and how to sail it and enjoyed our first windsurfing experiences.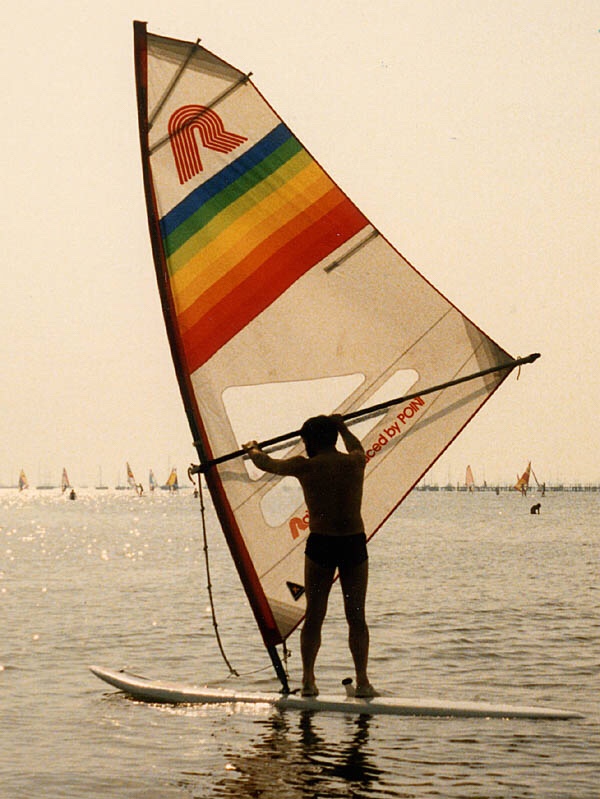 It looked a bit like this. I remember that the mast did not fit into the board very securely and it often came out and hit your toes or your ankle. Very painful.
In later years when we holidayed with Mark Warner on sailing holidays in the Med Jane became a real expert and windsurfed with a harness with considerable skill. I stuck to Lasers, being much older than her!
Our second visit to Crete was when Louise was about 4. No Michael at that stage. It was November and we stayed in Rethymnon in the north. The weather was poor but we were told that the south coast was always sunny which proved to be correct. Something to do with the mountains. We rented a little car and drove to the beaches on the south coast around Irapetra each day.
We also took in the Minoan sites including Knossos and our favourite, Phoestos, on the south coast. It was easy to stand at the head of the valley and imagine the army marching towards you to attack the Palace.
Today was our first visit by sea. We arrived in Heraklion at 7.30am. There was a strong wind and 2 tugs were in attendance to help with the 360 degree turn in a tight dock area. The turn was executed in style.
We left the ship at about 10.00am and found that an elongated golf buggy had been converted to transport wheelchair passengers to the terminal building.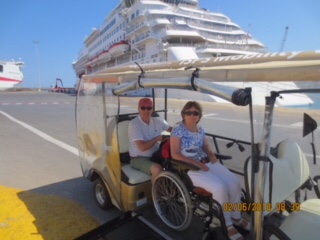 From there we found a number of smart Mercedes taxis. Dimitri was the best salesman and had the best English. His tour took us around the city and then up into the hills to an unspoilt farming village. Olives, goats and sheep and not much else, but the views were spectacular.