It was very windy and dark as we approached Gibraltar. We seemed to be running late which surprised me, bearing in mind that last night we were in Cadiz and we left there at about 11.30pm. Gibraltar is just around the corner from Cadiz!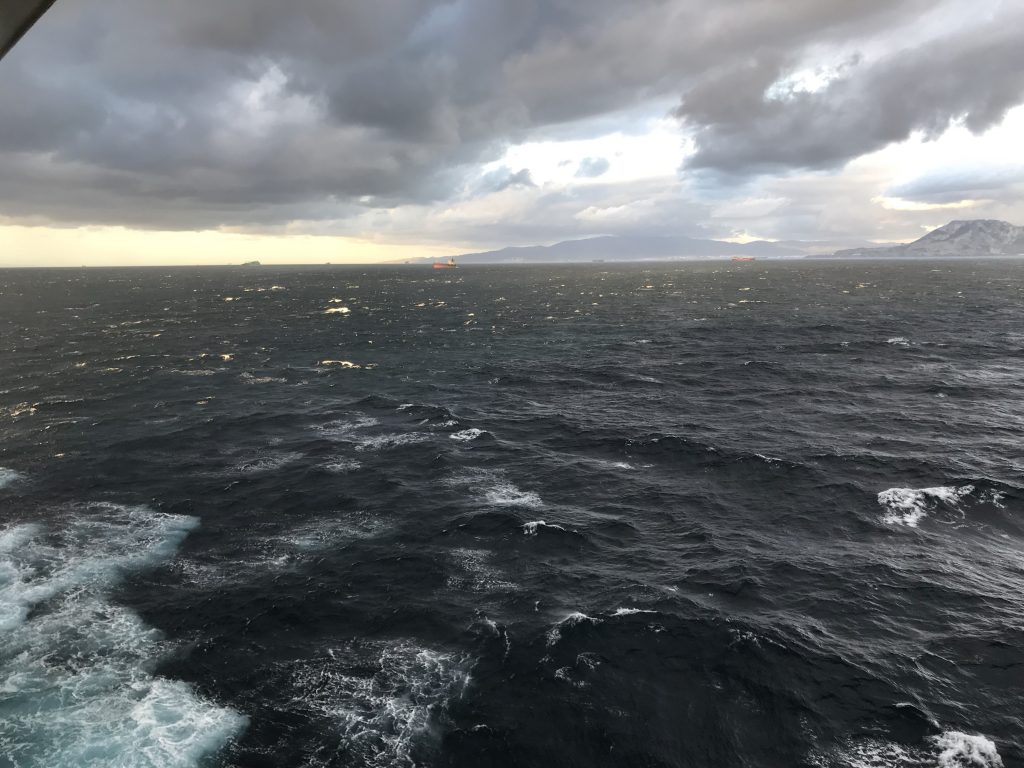 I couldn't work out the course we were taking which appeared to be leading us away from the port. Perhaps we were too early? But then the Captain spoke. She didn't use the system that broadcasts to our staterooms (cabins in normal parlance). As a result, her comments were heard only in the public areas. We did hear the word "unfortunately" but that was all. I left the cabin and found a steward who told me that the Captain had decided that it was too windy to risk trying to get into the port and for the safety of all of us she was heading straight to Malaga.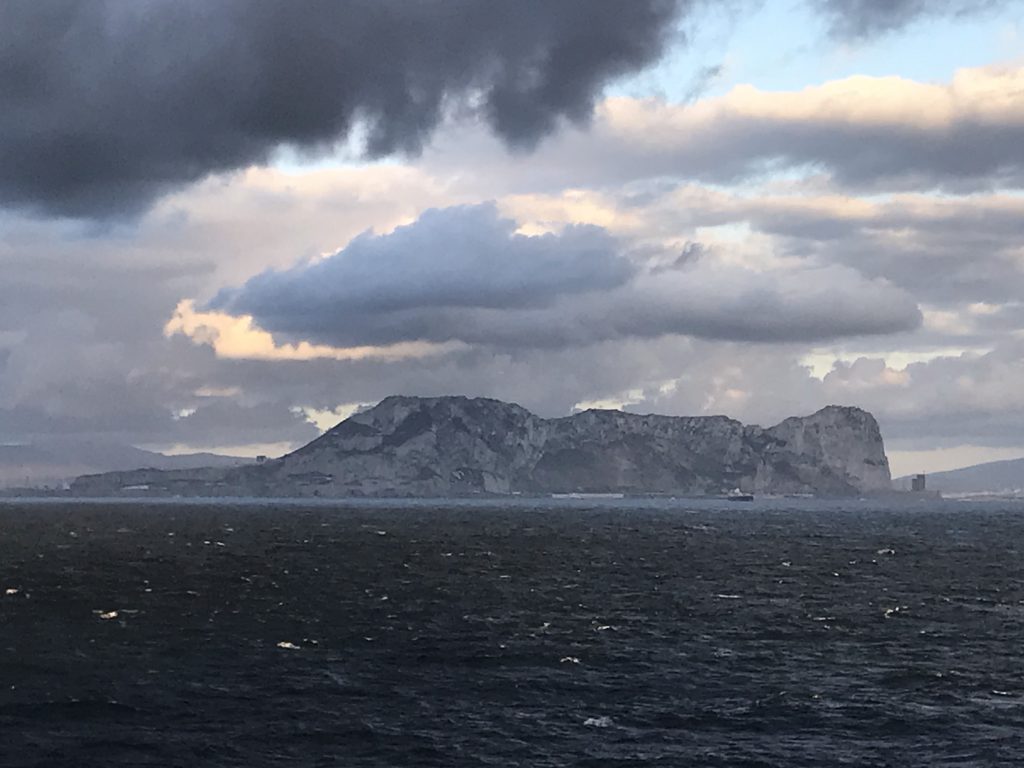 And that's what occurred – a gentle trip past Estepona, Fuengirola, Torremolinos and Marbella – all those places where we used to holiday in the sixties and seventies. And then it was Malaga.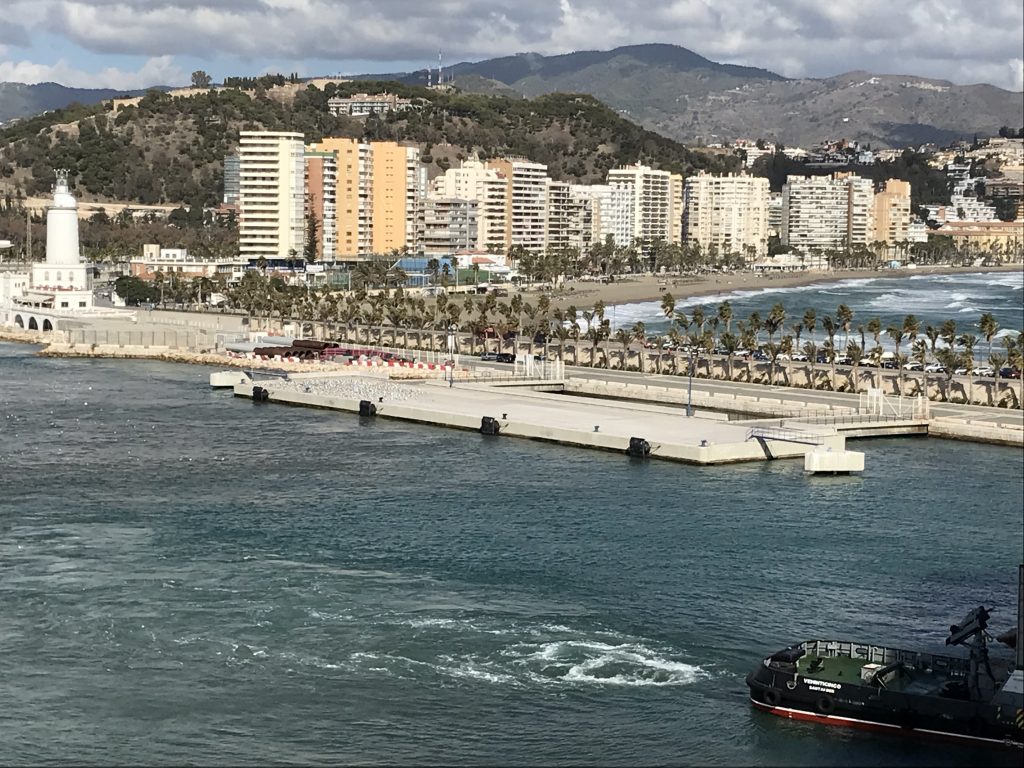 We decided to check out the restaurants where we were to lunch with the Freers on Sunday. After a walk alongside the breaking waves at the back of the beach, we found a mass of eateries including the Plaza and the Toro that the Freers had suggested. Both had easy access for Janes wheelchair, so we are all set for tomorrow.
The Saints were playing Man City this afternoon, but as Spanish time is an hour ahead, I knew that I would only see the first half before dinner. We played very well and 1-1 was an excellent result.
Tomorrow is here and it's Sunday. Less windy today and the sun is shining. After a gentle morning in the Commodore Club we walked down to the Toro restaurant. I earmarked a table and had a coffee while Jane and Kim went shopping.
Nigel and Linda arrived on time and we had a wonderful lunch in the Toro restaurant. The Freers were, as usual, on brilliant form.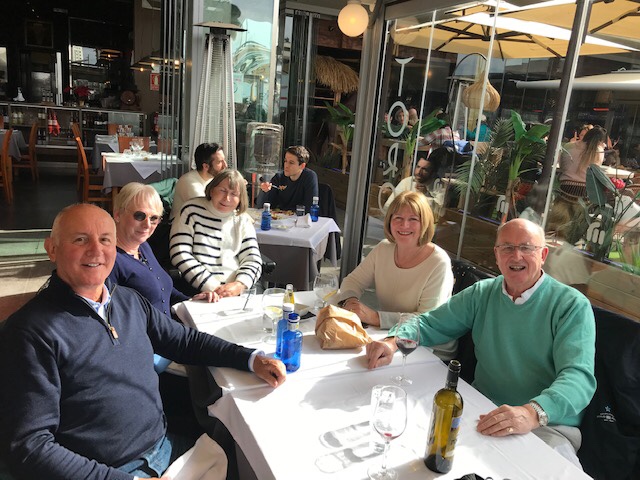 They now live permanently in Mijas and Covid has inevitably restricted them from seeing their family and friends in the UK as much as they would like. We all miss their company.