Fifty years ago – almost to the day, Jane and I had our first holiday together here in Corfu.
Much earlier in 1972, Brendan Andrews, Ted Coulter and I had fixed up a 2 week Taverna holiday for late August/early September in the village of Benitses, a few miles south of Corfu town. In July 1972 Jane and I met. As she had to get back to her teaching job in Wantage halfway through holiday that us 3 lads had booked, Jane arranged to come with us for the first week.
A few years after we married we came back to Corfu and stayed in Paleokatrista and then when Louise was small and before Mike had arrived we had a holiday in Roda in the north of the island.
Then about 3 or 4 years ago we came to Corfu on a cruise and a taxi man took us to all our old haunts.
We had been there 50 years ago – Brendan, Ted, me, Jane and a fisherman Angelo who took us all the way from Benitses to Kassiopi
For the visit today I had managed to book online a 3 hour tour in an adapted vehicle with a wheelchair lift. Corfutaxis were the outfit and although Penelope was not great in responding to emails, eventually we put together a tour which would take us to new places but with a drinks stop in Kassiopi in the north of the island.
This time we were shore, expecting the adapted Taxi by the ship. Kim was sure taxis were not allowed through the dock gates and she was right, so we took the adapted shuttle to the gates. There we were met with chaos. Cars, buses and people everywhere. Someone told me that Corfutaxis had a stand in the building. I found it and asked the lady where the adapted taxi was. She asked what I meant. Another lady said she was in charge but didn't know of any such booking. Luckily I had all the emails on my phone. It seems that Penelope had failed to tell anybody about the booking and was not working that day!
Anyway they rallied round, found a vehicle, found a driver, Spiros, took out the back seats and we were ready to go. They knocked 60 euros off the price which was a bonus and we set off on my suggested route round the coast up to Kassiopi.
I had imagined that the route would take us round the coast at sea level. It did occasionally, but in the main it twisted into the cliffs, round sharp corners, through little touristy villages on surfaces riddled with potholes. It was a bouncy hour hut eventually we arrived in Kassiopi. My recollection was that 50 years ago, there was one or maybe 2 tavernas and nothing else. Now there was little room to move, but I found the taverna we had lunched in 50 years ago.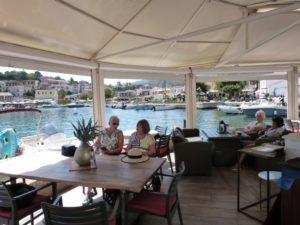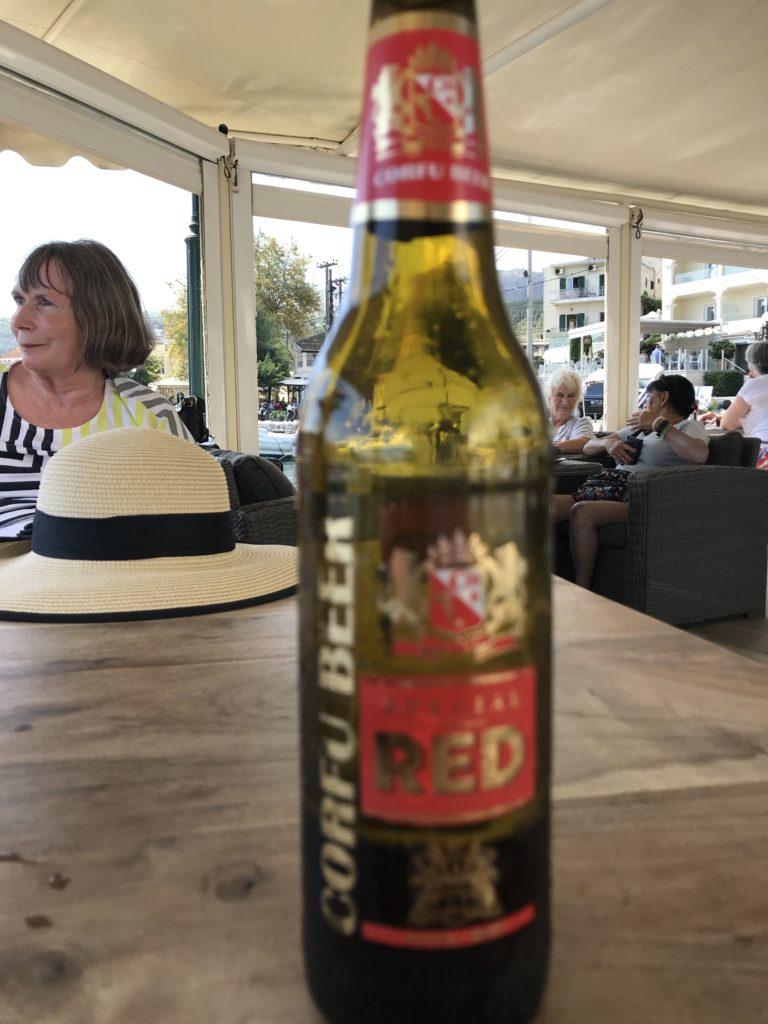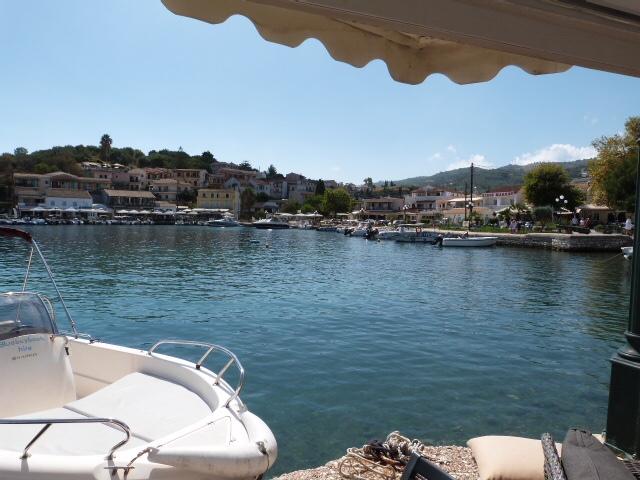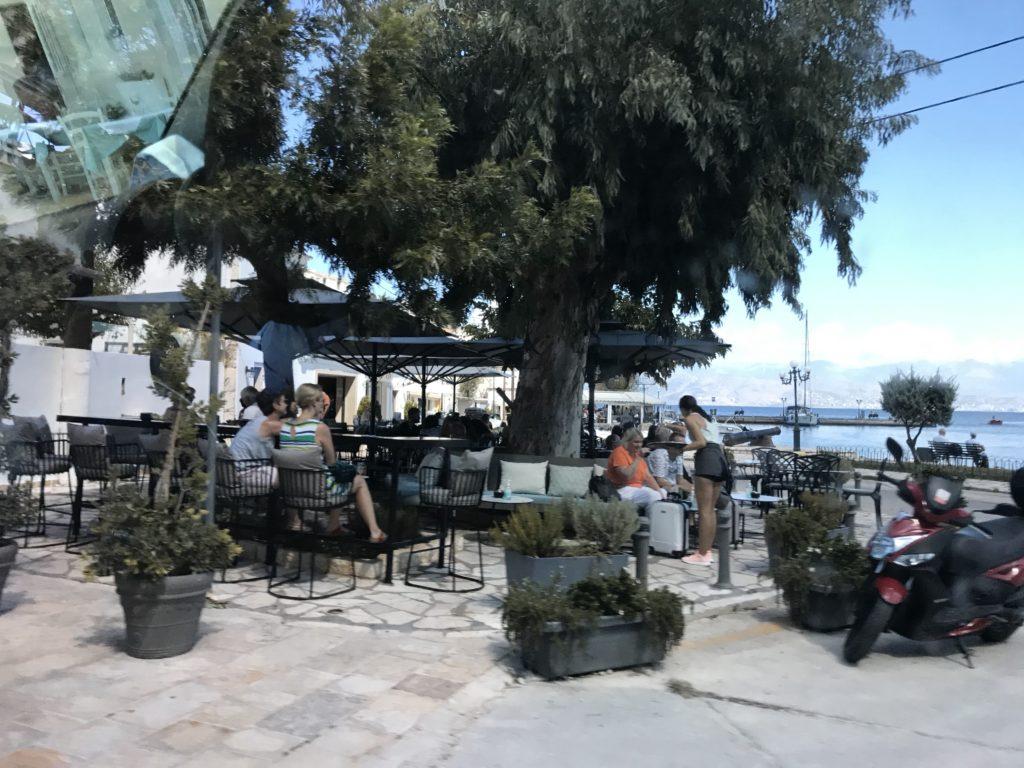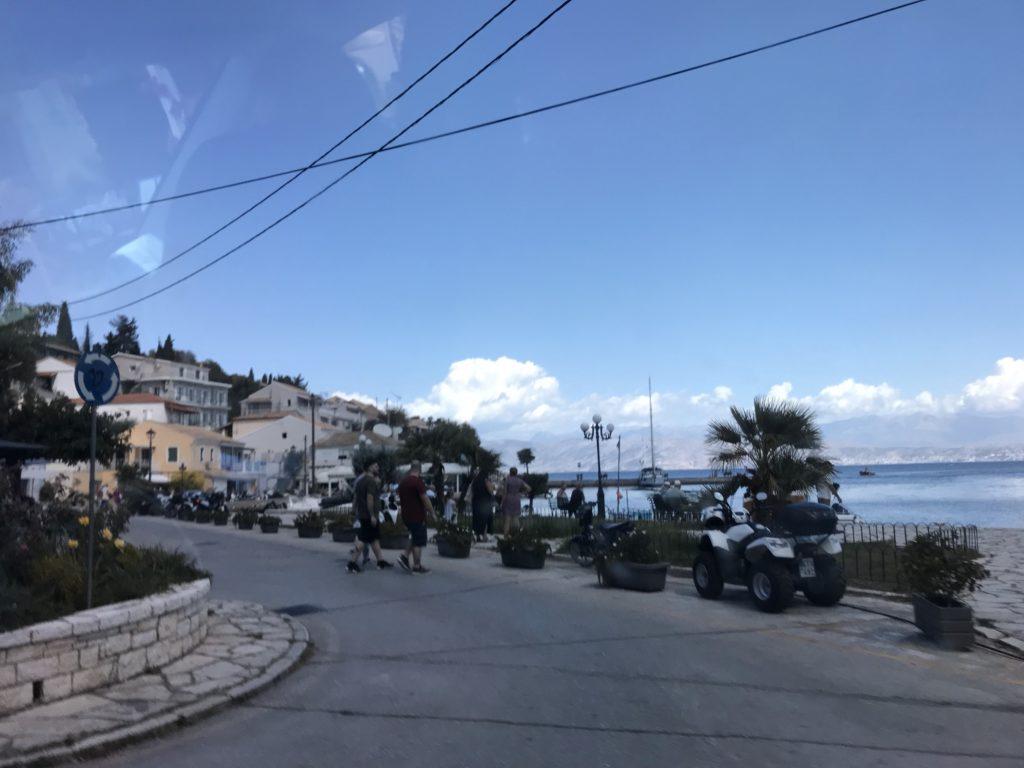 We took a better route back through central Corfu and eventually arrived back at the ship some 3 hours after we had left. It was an exhausting day.