Last month Stewart Wilson rang me. He doesn't need to announce himself when he rings. I know instantly who it is. He's a true Scot. Stewart and his wife Elizabeth feature in this blog regularly. Stewart was, before retiring, Rector of Banchory Academy. He is a Cunard philatelist extraordinaire (see the entry on 11 November 2016).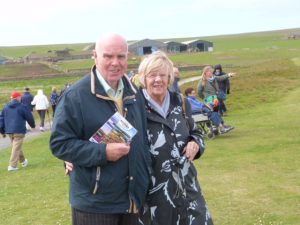 He had been rummaging about in his local bookshop in Banchory that day and had found a secondhand book entitled 'Samuel Cunard and the North Atlantic'. Later that evening he started to flip through the pages and found that the book was dedicated to Captain George Smith, my father, and that at the back of the book was a resume of my father's career with Cunard.
I was amazed because I didn't recall seeing the book at home, nor did I recall hearing about it before. I asked Stewart who the author was and he replied TWE Roche. I knew instantly who he was.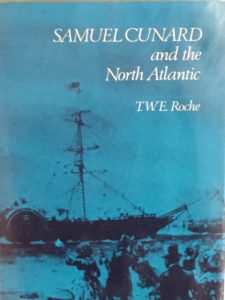 My father had joined Cunard in 1940 and served on the old Franconia, the Ascania and the Queen Mary during the war. I was born at the end of the war and when the two Queens had been converted back from troopships to passenger liners, father was assigned to the Queens. They, of course, sailed back and forth across the Atlantic on a 2 week cycle – 5 days each way with 2 days to turn around in New York and Southampton. My mother, sister Liz and I were, at that time, living in Grimsby, where both my parents were born and bred.
My parents made the decision to move to Southampton so that father could see us all for a couple of days every fortnight. Initially they rented 79 Bassett Green Road for a year from another Cunard deck officer and then bought 79 Ethelburt Avenue, close by. 79 recurs in our family. An aunt and uncle lived at 79 Gloucester Avenue in Grimsby and Jane and I bought 79 Shanklin Road as our first home together in Southampton.
As usual I have digressed. I guess that we moved to 79 Ethelburt Avenue when I was 2 or 3. The house was set in a square of about 20 houses around a grassed area and in one of the houses lived the Roche family. TWE Roche was a senior immigration officer at Southampton Docks.
Because of his initials he was known to everyone as Twee. But when Stewart Wilson said that Twee was the author of this book on Samuel Cunard I was completely thrown. Twee was an immigration officer. Why would he, in the late sixties, have written a book dedicated to my father?
I think the two families only lived near to each other for a few years. Possibly 3 or 4 years. I remembered that the Roches moved to Dorney Reach and that we went to their home there a few times. I remembered that I had my first ride on a horse in a field near their home. The horse saw a field of turnips ahead of him. His ears went back and he bolted at a full gallop. I decided that my best option was to jump off. I managed to get my feet out of the stirrups and leapt clear. I couldn't remember much more about the Roche family, but my sister Liz could.
The Roche family moved away from Southampton because Twee was promoted to a Senior position at Heathrow. Twee's wife Yetta was a German lady and they had 3 daughters, one of whom – Margaret – was at Homerton College, Cambridge with my sister Liz. The second daughter was Delphine who was my age and there was a younger sister, also an Elizabeth.
My sister Liz also remembered that Delphine had achieved fame as a costume designer in the film and TV industry. Inevitably I had to find out a little more about Delphine – after all, she was probably my first girlfriend!
Google gave me a variety of facts about Delphine. There were numerous accolades for TV and film costume design and a BAFTA nomination. Then I found a reference to a book that Delphine had written. It was apparently a memoir of her early life. Possibly the Smiths were mentioned!
So a few pounds were invested in Amazon in the hope that I could find out how, in the late sixties, there was still a connection between my father and TWE Roche. Had they remained in contact?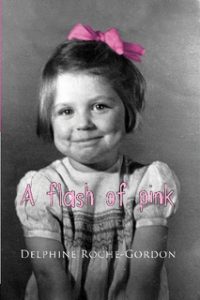 The book took some time to arrive. Delphine Roche has become Delphine Roche-Gordon and the back cover says that she has had 3 husbands and 3 children.
The book "A flash of pink" is lovely and recounts numerous incidents and scenarios in Delphine's early life. It is beautifully written. The front cover is of her as a 4 year old and as I remember her.
I noticed that one of the Chapters is entitled "Sandbanks". My sister had reminded me that we had had at least one holiday with the Roche's in a rented house at Sandbanks, by Poole Harbour. I know exactly where that house is in Shore Road and have been past it many times over the years. While at school I sailed in Poole Harbour every day of each summer term. Additionally Jane's sister Sarah lives nearby and when our children were small we spent many sunny days in Poole Harbour and at Shell Bay.
Now that I am reminded of it, I recall that one day, holidaying with the Roches, it was pouring with rain. Despite that, the fathers decided to take all of us children for a swim. The sea was no more than 100 yards away. I forgot to take my swimming aid with me to the beach (a blown up ring I think) so swam for the first time unaided.
I discover on Page 93 of her book that Delphine refers to a meeting with the Smith family in Southampton and she adds "I think I'll marry Richard. He helps me make sandcastles". It seems that as she grew up she changed her preference to men named David!
It is well known that if I suffer bad service or have a complaint about a product, I find the email address of the CEO and email him. It works. So I thought it would be easy to find Delphine's email address, but it has not been. Maybe we will make contact one day. Perhaps further googling is needed or possibly one of the Roches will see this.
We return to sea towards the end of May on Queen Elizabeth. The Greek islands. An excellent itinerary and we are looking forward to it. Do sign up to email reminders to keep in touch.