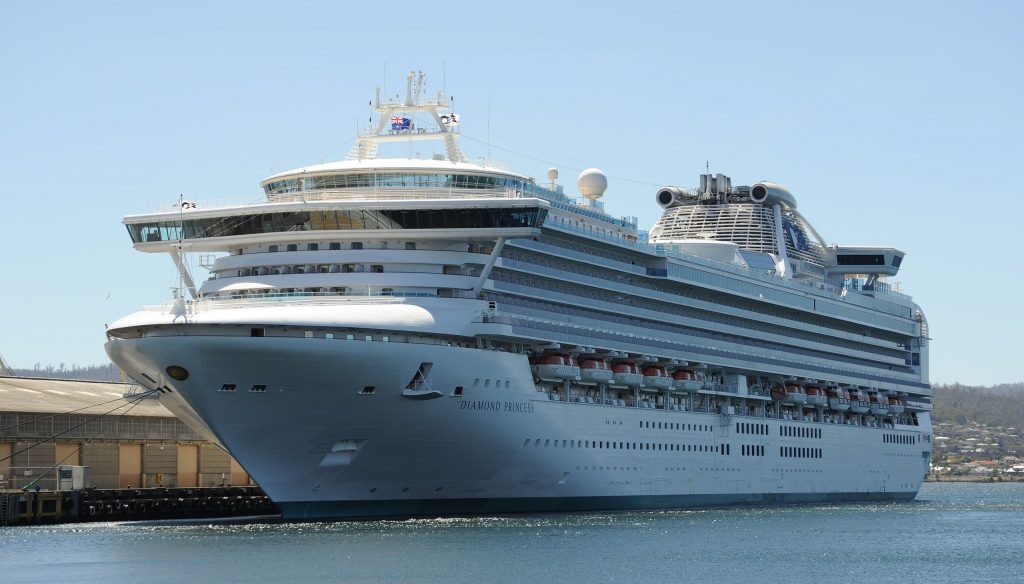 There have been numerous problems with the blog. Sam, who looks after these things for me, tells me that it's because of 'plugins' being updated! Anyhow, as no one seems to have received this piece I will try to publish it once again. Sorry if you've seen it already. It would be great, if you do get an email telling you it has been published, if you could respond saying so!
This is the Diamond Princess, the ship that has been quarantined inYokohama for the last 2 weeks. She was our home for 6 weeks back in 2009. I had retired at the end of 2008. We had tried Princess Cruises the year before on the Sapphire Princess and had a great voyage from Auckland to Sydney.
The itinerary for 2009 looked really good if we put together 2 cruises back to back. The first was Bangkok to Anchorage in Alaska and the second from there down the coast of Alaska to Vancouver.
When the car came to Landfall to take us to Heathrow for the flight to Bangkok the driver asked us if we realised that the Foreign Office were advising against travel to Bangkok because of rioting in Bangkok. We knew of unrest but that was all. I rang Princess Cruises who said the ship would be leaving on time and if we weren't there – bad luck.
So we went. We were booked into the Shangri La in Bangkok for 2 nights and when the driver arrived at the airport to collect us, I asked how we would get to the hotel. By then I knew that people had been killed and that the Red Shirts had surrounded Government House. Not a problem, he said. We just drive round it! And we did and when we settled into our room in the hotel all we could see was some smoke and little else. The protesters surrendered the next day.
After 2 days in Bangkok we boarded Diamomd Princess and set off for Singapore. Then it was some great places – Vung Tau and Ho Chi Minh City and Nha Trang – plenty of fake Ralph Lauren polo shirts and fake Rolexes – yes I know I'm still wearing some of those shirts! Jane bought me a real Rolex but I still wear the fake when I'm abroad.
Then on to Hong Kong for 2 days, Taipei in Taiwan and then Japan and China.
We were tracking back and forth between them. Beautiful Shanghai, the wonderful Beijing and the amazing Dalian.
And our first visit to Japan. Lots of form filling and fingerprinting. And this is where the similarity starts. There was a swine flu epidemic then. There is a coronavirus now – much much worse.
We had to go through a thermo scanning procedure in Kagoshima and Muroran. There were major delays before we were allowed ashore and in Muroran the Captain eventually announced that we were free to go ashore. As we poured down the gangways a little customs official ran up to the central gangway waving papers indicating that we were not to go ashore. He was ignored!
That was 11 years ago. We have to be sorry for the passengers who are now quarantined aboard that ship. Some of them in internal cabins.
In 2009 in between the Japanese ports we had a day in Pusan, South Korea and an amazing day in Vladivostok, Russia. In Vladivostok we stumbled on a full blooded military parade involving thousands of troops, heavy vehicles and tanks. It was celebrating the end of WW2. They were not happy that a group of us from the ship were watching and taking photos.
From Vladivostok we crossed the northern Pacific to Anchorage and then 7 glorious days down to Vancouver . The Alaskan ports of Skagway, Juneau and Ketchikan are somewhat artificial but great fun.
We had booked 2 nights in the Pan Pacific in Vancouver but 2 of our dinner companions on the ship, Bruce and Moreen Rutherford, who we had dined with throughout the cruise, insisted that we cancelled the hotel and stayed with them. They were wonderful hosts and despite having been away from their home for some 10 weeks they treated us regally.
Then after a few days in Vancouver we flew down to stay with our good friends Mike and Maggie O'Connell in Sarasota, California.
As many of you will know, sadly Mike died in February 2013. We had arranged a Pacific cruise out of LA that February and the plan was to meet up with Mike and Maggie in Santa Monica, where we were staying, before boarding Queen Elizabeth, but sadly Mike died the day after we arrived in LA. He was a great man and we loved him very much.