On Saturday 16 November 2019 we returned to Southampton on Queen Victoria after a very happy voyage to the Canaries.
We had two cruises booked for 2020 but sadly they were both cancelled. Cunard refunded every penny that we had paid.
The cruise companies have had a disastrous year. Fleets of cruise ships are at anchor around the world. The majority of their crew have been returned to their homelands, some flown home, others by sea. Skeleton crews remain on the ships, keeping them ship shape and here on the south coast of England there are a multitude of Cunard, P&O, Holland America, Carnival, Royal Caribbean and other ships at anchor.
From time to time the ships leave their anchorages off Bournemouth and Weymouth and return to Southampton to revictual, change crew and then they return to the boredom of Bournemouth bay.
We are taking a positive line for 2021. The only way that we can have a really meaningful holiday is at sea. Not just because of my heritage but because Cunard make it easy for us.
An old friend from my Mudeford teenage years emailed me yesterday to tell me that she had remarried. I responded and this morning she sent me this photograph of Queen Victoria as it sailed up Southampton Water past her home in Warsash. It would have been a very quick turnaround by QV to minimise port charges.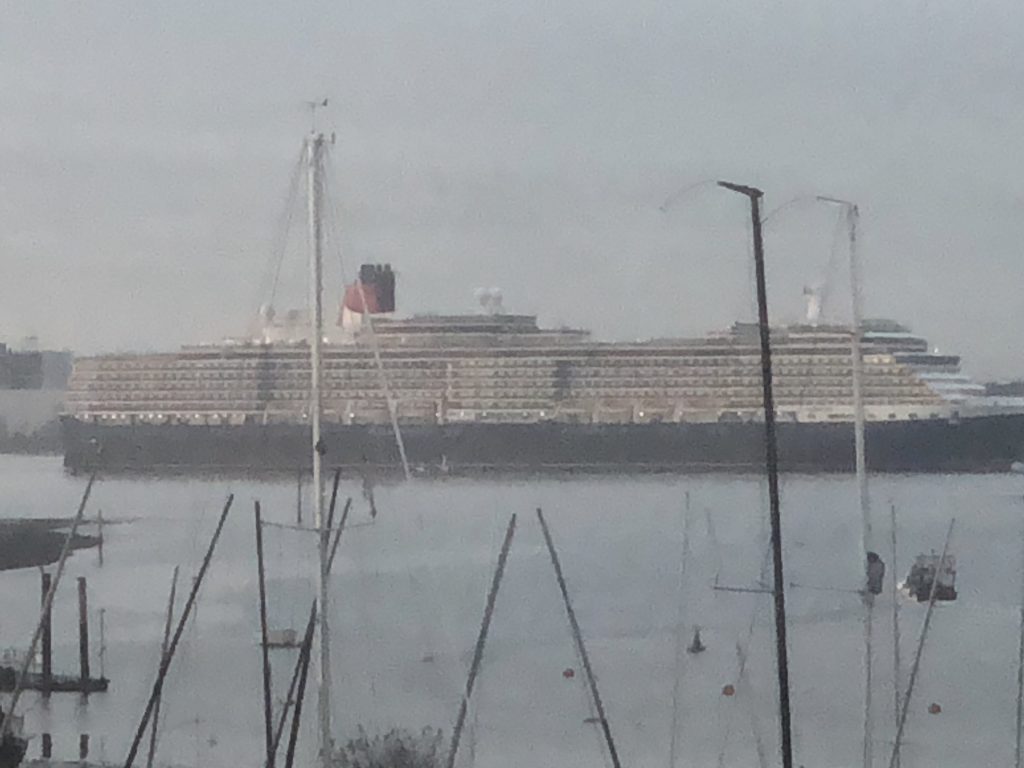 As you will be aware Cunard were keen to exploit the Australian market and had based Queen Elizabeth there for 2020. Because of the pandemic they brought the ship back to Europe but their new itineraries for 2021 take her back to Australia. It is a shame because QE and QV are ideal for us and taking one of them away from Europe halves the number of choices we have.
The equipment that we have to take with us (a heavy motorised wheelchair, a folding wheelchair, a bathchair and a large hoist) makes flying to or from a ship impossible. With QE on the other side of the world, our Cunard choices are QV or QM2. The adapted cabins on QM2 are not great so that when batches of new cruises are released we have to make quick decisions to get one of the adapted QV cabins.
I mentioned Mudeford. Many of you will not know it. The place is pronounced Muddyford. It is near Christchurch in Dorset, England. My parents had a beach hut on Mudeford Sandbank during my youth. We used to call them chalets, not huts! They were (and still are) wooden buildings and the licence from the local authority allows the hut owners to live in them from March to October.
As my father was regularly away at sea, as soon as the school summer holidays started, mother would load up the car and we would set off to Mudeford for the 6/8 weeks school holidays. If father had leave during that time he would of course join us. We all loved it.
The chalet was fairly basic. Father built a double bed which folded into the wall and there were bunks in the back room for my sister Liz and me. There was a small kitchen area with a sink and that was it. Public loos were nearby. There was no running water to the hut (although after a year or two father did manage to get us linked up to the mains (illegally!). So large metal jugs were filled from standpipes nearby.
But it was great. We looked out to sea and to the Isle of Wight and behind us was Christchurch Harbour.
From day one we had boats. Initially it was a beautifully built clinker rowing dinghy. Someone lent me a small red spinnaker type sail with a mast, and I set it up with rope stays. The boat didn't have any sort of centre board so I would row up the harbour into the wind, set up the mast and the sail and then turn so that the wind was behind me and roar back to the beach. I steered with an oar at the stern.
That's how I learned how to sail. During the next winter father realised that Liz and I needed a proper sailing dinghy. Somehow we heard of a dinghy that was for sale near where we lived in Southampton. Father agreed to buy it and I can remember that it came with a trailer and we walked it home. I spent many hours rigging and unrigging it in the garden before it was taken to Mudeford.
Father was on leave during the summer term but knew that he would be away when the school summer holiday started. He wanted to get the new boat to Mudeford and to check that we could sail it before he went back to sea. Our respective headteachers gave permission for Liz and me to miss school for a day.
On that day we quickly rigged the boat and were ready to sail it when father said he wanted to sail it first to check it out. This was a man who at the time was a Chief Officer on the old Cunard Queens. He had probably not sailed a boat for 25 years (if at all!). It was a calm day with very little wind. He climbed in and we pushed him off. Within 2 minutes and no more than 50 yards from where we were standing waist deep, suddenly the boat tipped back and father fell backwards into the water. Liz and I swam out, righted the boat and brought it back to shore.
After bailing it, out Liz and I sailed the boat away without a problem.
To give my father full credit, many years later in 1965, after my first year at University, I was travelling on Queen Mary for a 3 month working holiday in the USA. Father was Staff Captain (now known as a Deputy Captain) and although I was travelling in Cabin Class (the middle one at the time – First – Cabin – Tourist) one night I was to sit at fathers table in First Class for dinner. My dinner jacket had been packed for the occasion.
Before dinner the passengers who were to sit at fathers table were invited to his cabin for pre-dinner cocktails. During that party he told the story against himself of the day in which he, the Master Mariner, had capsized his children's sailing dinghy. The American guests loved it.